Council of Colleges of Acupuncture and Herbal Medicine Announces 2023 Executive Committee Election Results
11/03/2023
Press Release
FOR IMMEDIATE RELEASE
November 3, 2023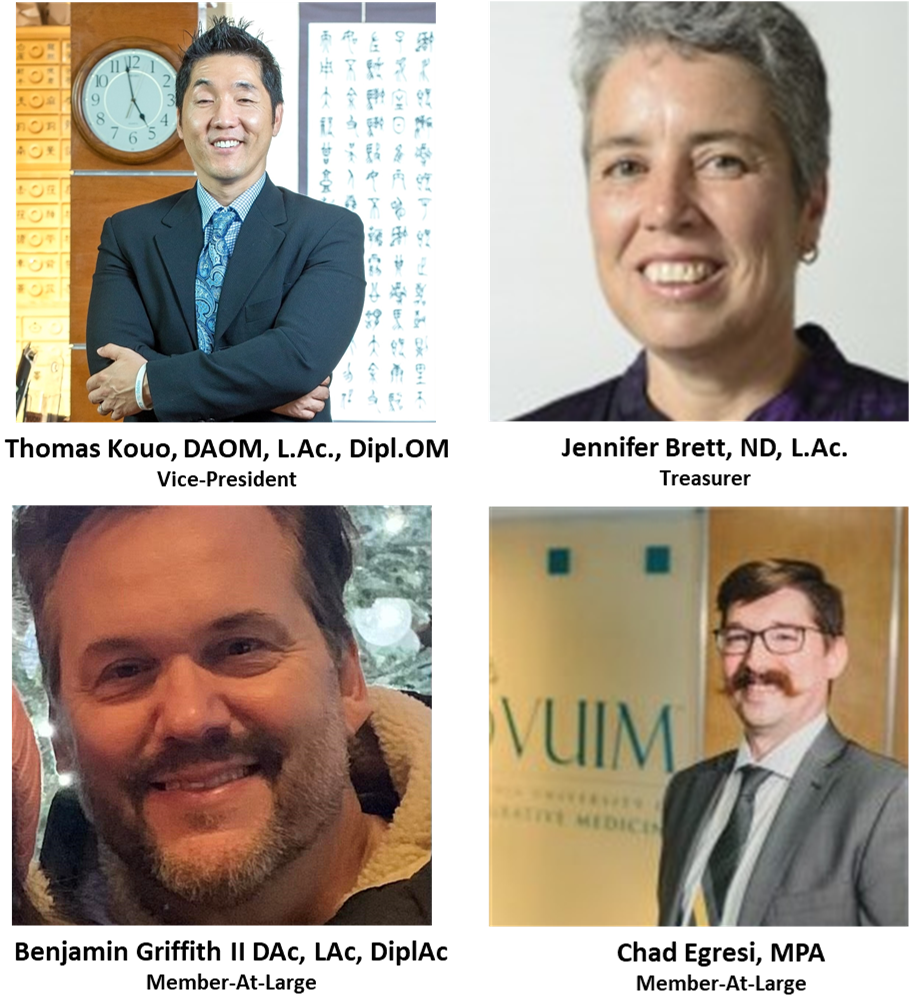 [Centennial, Colorado] – The Council of Colleges of Acupuncture and Herbal Medicine (CCAHM) proudly announces the results of its Fall 2023 Executive Committee Election, marking a new chapter in CCAHM's leadership dedicated to support member institutions in advancing the field of Acupuncture and Herbal Medicine (AHM) through educational excellence. CCAHM, recognized for its pivotal role in acupuncture safety through publication, education, and certification of a national standard for Clean Needle Technique (CNT), welcomes the following elected members, whose 2-year terms began on November 2, 2023:
Thomas Kouo, DAOM, L.Ac., Dipl.OM has been re-elected as Vice-President. Bringing vast experience from different institutions, including his current role as Dean at the Eastern School of Acupuncture and Traditional Medicine, Dr. Kouo embodies a unique blend of leadership qualities derived from his extensive work in for-profit and not-for-profit educational sectors.
Jennifer Brett, ND, L.Ac. will continue to serve as Treasurer, a position she has held with distinction for 4 years. She is currently Director of the University of Bridgeport Acupuncture Institute. Her dedication to fiscal responsibility and her commitment to the mission and values of CCAHM have been fundamental to CCAHM's success.
Benjamin Griffith II DAc, LAc, DiplAc, Acupuncture Studies Department Chair at the Won Institute of Graduate Studies, retains his position as an At-Large member, offering a wealth of knowledge in advocacy and coalition building with a passion for treating patients in the clinical setting, as well as seventeen years of faculty experience.
Chad Egresi, MPA, Dean of Enrollment Management at Virginia University of Integrative Medicine (VUIM), was elected as a new At-Large member, bringing over a decade of administrative expertise in post-secondary higher education admissions, student affairs, and enrollment management. Egresi's strategic vision focuses on unifying the voice of educational institutions within the AHM community.
These individuals will join the existing members of the Executive Committee, including Kris LaPoint, PhD, L.Ac., President; Allyson Wilson, DAOM, A.P., Secretary; Sharon Jennings-Rojas, DOM; M.Ac.; L.Ac.; RT (NADA), Member-At-Large; and Sherri Green, Ph.D., LCSW, MSW, M. Dipl. Ac., Member-At-Large. Together, the eight members of the Executive Committee serve as the elected governing arm of CCAHM.
CCAHM extends its gratitude to departing Executive Committee Member-At-Large, Lixing Lao, PhD, Professor and President of VUIM, for his service as he concludes his term on the Executive Committee.
CCAHM's Executive Committee Election occurred during the course of the virtual CCAHM 2023 Fall Conference, which featured fifteen interactive sessions, including eleven committee meetings and committee reports, participation from at least five partner organizations, three educational workshops, CCAHM's General Business Meeting, and an open member networking session. During the CCAHM 2023 Fall Conference, member institutions gathered together to stay current on administrative and faculty development topics, and to discuss relevant issues in the delivery of the highest standards for AHM education.
For more information about CCAHM and its initiatives, please visit www.CCAHM.org.
About CCAHM:
The Council of Colleges of Acupuncture and Herbal Medicine (CCAHM) is a leading association dedicated to promoting excellence in acupuncture and herbal medicine education. Committed to advancing the field and ensuring the highest standards of training, CCAHM collaborates with colleges and practitioners to foster innovation, research, and professional development.
Website: https://www.ccahm.org
For media inquiries, please contact:
Kristin Richeimer, CAE
Interim Executive Director, CCAHM
kricheimer(at)ccahm.org